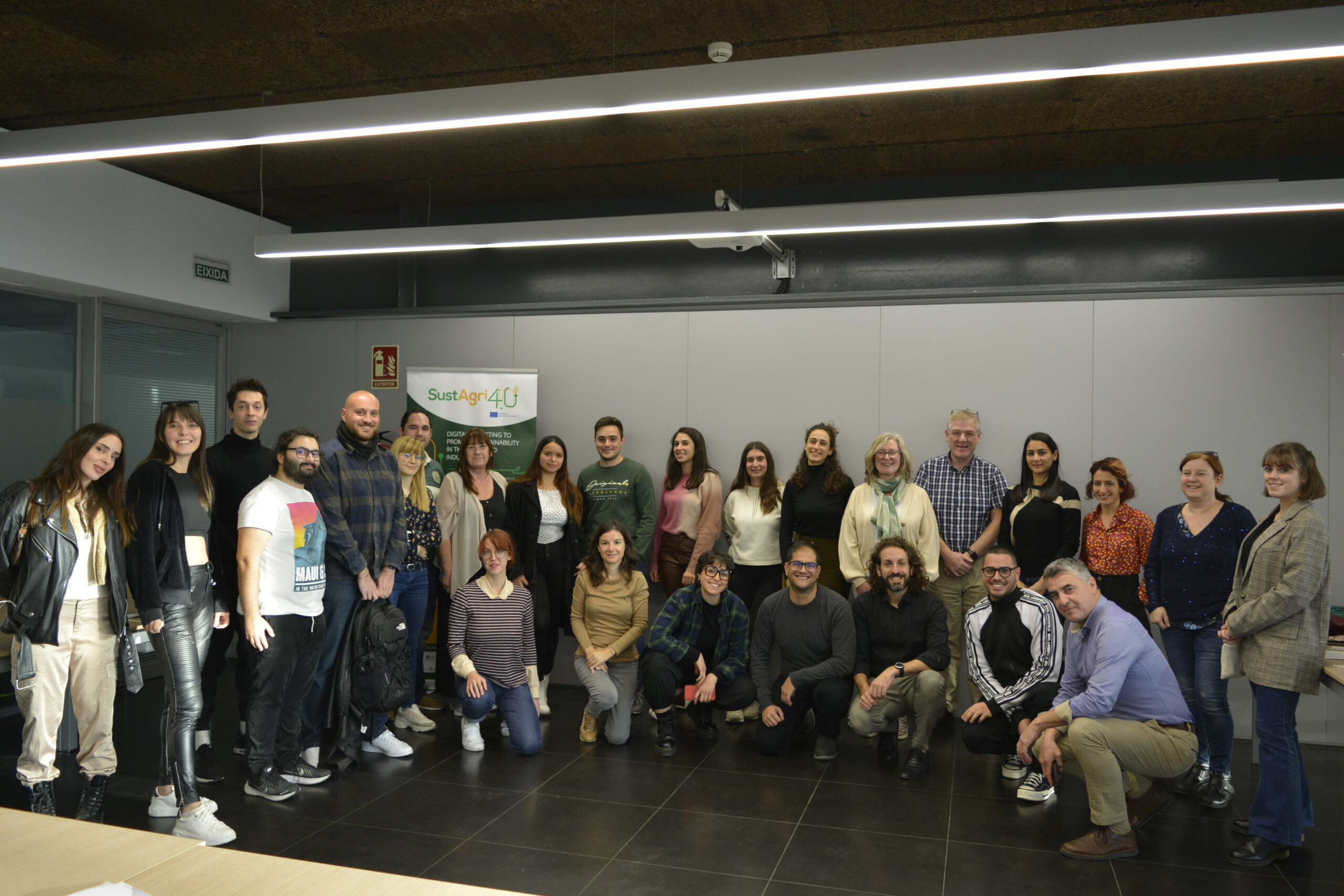 We had an excellent Mobility Exchange, led by our partner, the School of Engineering at the University of Valencia, this November. During these four exciting days of co-creation, partners and expert trainers, together with professionals in the Vocational Education and Training (VET) sector, gathered the final pieces to start designing our upcoming and open access E-Course.
We kicked off the first day by exploring sustainability. Given participants were from mixed backgrounds with varied expertise in storytelling, digitalisation, agriculture and entrepreneurship, the activity on designing a food production line from growing produce to selling in a shop led to interesting and innovative solutions with the incorporation of sustainability according to the three pillars: economic, environmental and social. Can food waste become an enterprise? Turning farm waste, from chicken eggs, for example, into a clean and consumable product was one of the favourite ideas that came from this activity.
The second day started with a visit to the Arts and Science City, which worked as a metaphor to contemplate different futures given the space served as a meeting point for society to grow democratically and thus, is also a place to solve the future challenges. The artificial intelligence (AI) exhibition to explore AI advancements, followed the horizons exhibition showcasing landscapes in both realistic and abstract forms, led participants to question different scenarios in which climate change continues its negative progression and alternative, sustainable solutions to combat it. From there we tackled digitalisation. A core focus area for us is "agriculture 4.0", recognising that advanced technologies (AT) are making their way into the agri-food sector as a necessary sustainability shift to mitigate and adapt to climate change, increase efficiency, reduce operational costs and give farmers and agribusiness owners more freedom on how they govern their business.
Of course, no exchange is complete without exploring the heart of an event's physical location. We walked around Valencia's iconic centre and explored the renowned market, "Mercado Central", which has been running since 1928. Participants were encouraged to think about whether the shopping experience and speaking directly with vendors could be replicated in a virtual space – the answer is still being investigated. Within the entrepreneurship focus, branding and storytelling were explored. When we're branding a product, we're creating a story. Participants reflected on how to shape their own stories and weave in a narrative of sustainability, too.
The final day focused on e-commerce and the E-Commerce Platform which we'll start building next year. We began with great talks by sister projects, including Circular Bricks, addressing the circular bioeconomy, and UV Sustainability piloting alternative food consumption through zero-km initiatives and local food markets.
We closed the event with a co-creation session on what specific topics to cover in our future E-Course and how. A lot was learned from expert feedback, including the understanding that we all need to work at our own pace. We're looking forward to creating short, engaging videos that people can watch whenever it's convenient. We can't wait to have you join the journey! Stay tuned and get ready to take our open access, certified E-Course in June 2023! 😉