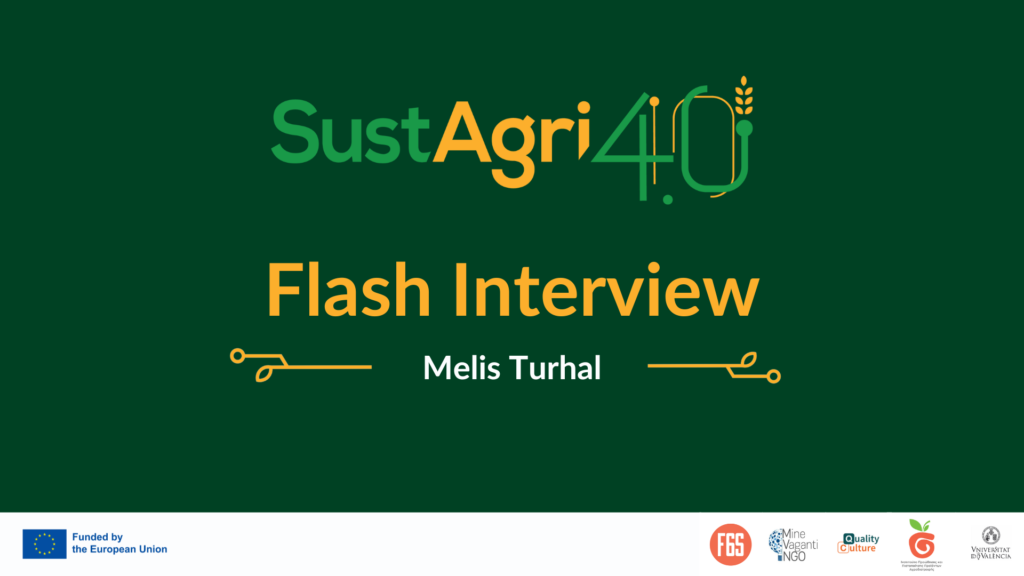 Melis Turhal has almost 10 years of experience in EU-supported programmes. She is currently part of the MVNGO team and focuses her work on fields such as climate, energy, smart cities, digitalisation and health.
Her role in the SUSTAGRI E-Course was fundamental for the organisation, production and delivery of all videos and learning materials. Read more about her role in our project.
---
Why is SUSTAGRI4.0 important?
The importance of a project like SUSTAGRI 4.0 lies in its dedication to promoting sustainable agriculture and facilitating the transition to Agriculture 4.0. This project aligns with the goals of the European Green Deal and the new EU Common Agricultural Policy, which emphasise sustainability at social, environmental and economic levels. In particular Agriculture 4.0 represents the integration of digital technologies into farming practices. The project acknowledges the potential of these technologies in enhancing food safety, quality and sustainability. However, it also recognises that the adoption of Industry 4.0 technologies in agriculture will take time and support. SUSTAGRI 4.0 bridges this gap by providing training and skills to the agricultural community. Moreover, SUSTAGRI 4.0 focuses on empowering local producers and sustainable agricultural business owners by equipping them with digital marketing skills. This empowerment enables them to connect with their local communities in the digital age, promote their products effectively, and contribute to the growth of local agriculture. Finally SUSTAGRI 4.0 is important for the adaptation of the VET sector to the changing needs of the labour market. By offering learning programmes that enhance technical and digital skills, it prepares learners for the evolving demands of the agriculture industry.
What can you tell us about the SUSTAGRI4.0 E-Course?
The E-Course on digital marketing for sustainable agriculture is poised to have a significant and positive impact on young local producers and small-scale sustainable agricultural businesses. It's been a challenge to create content that can fit the needs according to our partners' countries since the realities from Italy to Greece, for example, are quite different. However, through research and engaging both farmers and VET professionals, we have designed a flexible e-course which allows our target groups to engage only with the content that suits them best! We're looking forward to receiving feedback on this e-course so that we can learn what has worked and what needs to be improved.
What's it like for MVNGO to work with this project?
MVNGO has a long track record with Erasmus Plus projects, especially in "green" projects! The environmental sector in particular is one key focus because it still proves to be a central issue in the daily lives of all of us. Working on the SUSTAGRI4.0 project gives MVNGO the opportunity to engage new stakeholders in the agriculture sector specifically and help local farmers (in Italy) to grow their business. This has been an exciting new challenge for the organisation. We are proud to continue our efforts in environmental projects like SUSTAGRI 4.0!
Melis Turhal
European Project Manager at MVNGO